Expired Event
Posted by Moderator
Jan 6, 2021
Delhi EB-5 American Green Card Virtual Market Series
×
About EB-5
What Is EB-5?
The U.S. Congress created the EB-5 Program in 1990 in order to enable high net worth foreign investors to obtain a U.S.
Visa by investing in a U.S. business in a manner that will benefit the economy by creating jobs. To qualify under the EB-5 Program, the foreign investor must invest $900K or $1.8 million in a qualified new commercial business.
That amount is reduced to $900,000 if the new commercial business is located in an area with high unemployment. Each investor must also create 10 or more permanent U.S. jobs through his or her investment. EB-5GC enables investors to invest $900,000 or $1,800,000 in US. The EB-5 program has already created a number of business and investment opportunities in United States. Get a return on investment as well as get an American Green Card.
EB-5GC.COM plan to bridge the gap and bring more transparency in the process and connect Investors with American companies that work on such projects which enable investment for return and permanent residency (Green Card).
About this Event
EB-5 Green Card Virtual Market Series is a Interactive Webinar Series is the association with latest digital resource, curated to provide listeners with key insights into the most important American immigration investor markets.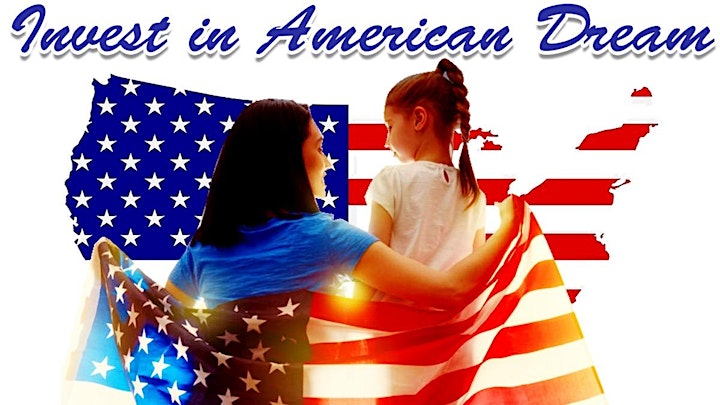 A Great Opportunity To Meet:
1. One of the top EB5 attorney in United States
2. Exclusive EB5 Project Team of Montage Hotel & Residences, An Examplar Project with already approved EB5 Investors with conditional Green Cards
Gain permanent residency in the USA through an investment!!
Get A Green Card
To join webinar on Event Date:
Use Zoom Meeting Link Below:
https://us02web.zoom.us/j/5716028822
Zoom Meeting ID: 571 602 8822
In this live webinar, experts will walk you through the entire EB-5 investment process, sources of funds and guide you in choosing a crucial step of professional and experienced regional center.
SPECIAL HIGHLIGHTS
Network, learn and mingle from the convenience of your own office or Home.
- The virtual conference will feature interactive panel of experienced immigration professional from renowned Regional Center. Montage Hotel & Residences, An Examplar Project with multiple successful investor cases who already have received conditional Green Cards.
- Panel Discussion Includes leading EB-5 attorney with over 500+ EB5 case experience.
Learn about the latest legislative changes in the EB-5 program
WHAT IS EB-5 Green Card
EB5 is USCIS (United States Customers & Immigration Services) offical program that enables investments in American businesses for Permanent Residency or Green Card for investor and his/her family.
EB-5 enables investors to invest $900,000 in USA. Get a return on investment as well as get a Permanent Residency (Green Card).www.uscis.gov/eb-5
Who Should Attend
1) Current Visa Holders – H, L, J, F, & B's.
2) Immigration focused service providers
3) Real estate and project developers
4) Economic development professionals
5) Foreign migration agents
6) Anyone interested in learning about EB-5
Key Topics For Discussion Include:
What the EB5 data telling
· Socio-economic considerations for projects and investors
· Transfer of fund requirements or concerns
· Investor project preference (location, industry, etc)
· And More!
To join webinar on Event Date:
Use Zoom Meeting Link Below:
https://us02web.zoom.us/j/5716028822
Zoom Meeting ID: 571 602 8822
For more details please click the link below:
Date And Time
Wed, January 6, 2021
7:30 AM – 9:00 AM IST
Location
ONLINE EVENT
Zoom Call
Delhi