Expired Event
Posted by Moderator
Nov 12, 2020
2020 Concierge Medicine FORUM | ATLANTA, GA USA
×
FOR DOCTORS Conference | Concierge Medicine Today's 2020 CONCIERGE MEDICINE FORUM, VIRTUAL CONFERENCE | Nov 2020
1.About this Event: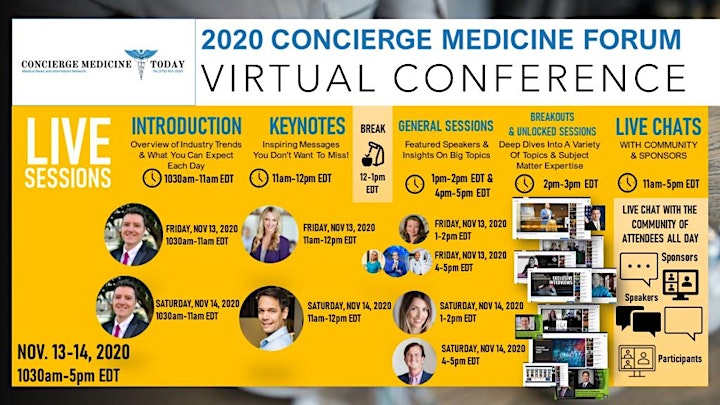 We are coming to your laptop, TV, and even your phone for two weeks in November! You'll get 24/7 access to online master classes designed to answer YOUR most-asked questions—all without the need for a flight, hotel, or meals budget!
During the conference, you'll get access to LIVE keynotes and LIVE Q&A sessions. Can't watch live? Got patients to see? No problem. This is a "concierge, on-demand, at your service" conference! Just log in and watch any of the streams afterward, on your time, your schedule and on-demand.
Plus, after the 2020 CMT FORUM is over, you'll have access to all the LIVE and On-Demand content for a specific amount of time, dependent on the ticket level you choose.
Theme
"Culture of Collaboration In Medicine"
Questions
Call 770-455-1650 ext 151 or email editor@conciergemedicinetoday.com
Description
The 2020 Concierge Medicine Forum hosted by Concierge Medicine Today can be experienced as a LIVE Stream, on-demand and at your convenience and as many times as you'd like after the event!
Front row seats for EVERYONE!!!!!!
MEANINGFUL CONNECTIONS
How-To's and practical advice that's in-practice, not theory.
We'll discuss proven strategies for better performance.
Leave empowered to create unique, memorable and personal experiences for your Patients.
Learn the steps needed to create a practice-work environment of teamwork and exceptional patient service so that the needs of your Patients and your staff are met.
Learn how to build strong relationships, remarkable word of mouth moments in your local community with a little "sweat equity" ... and create Patients for life!
NEW TRENDS RISING in Patient Customer Service
EXITING COVID and UPDATES in TELEHEALTH for Doctors
EARLY CANCER DETECTION TECHNOLOGIES
Full, LIVE access to presentations and panels of practice invigorating content
GIVEAWAYS!
REFINING YOUR PRACTICE CULTURE
Virtual networking and "Ask the Speakers" Q&A with industry leaders
DISCOVER LOCAL DOCTORS
This is not something you just need; it is something you deserve!
Access to the exclusive Digital Vault of tools, materials and content
Leave with a new sense of confidence and energy as you set the stage for your practice in 2021!
On demand access of the entire event
LEARN MORE: www.ConciergeMedicineForum.com
Date And Time
Thu, Nov 12, 2020, 7:30 PM –
Sat, Nov 14, 2020, 10:30 PM IST